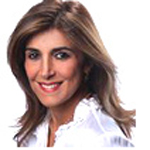 Our head dentist Dr. Firouzeh Manesh, DDS received her Bachelor of Science in Cybernetics with emphasis in Bioengineering from UCLA in 1987, and her Doctorate of Dental Surgery from UCLA School of Dentistry in 1991. She further advanced her professional education at VAMC, Sepulveda in General Practice Residency. Dr. Manesh has been a faculty lecturer at UCLA School of Dentistry, Section of Restorative and Section of Advanced Education in General Dentistry (AEGD) since 1994.
After practicing dentistry and teaching innovative cosmetic techniques at UCLA for over 20 years, she understands that an educated patient is the happiest patient. Most people don't realize how aggressive and irreversible cosmetic dentistry is. Oftentimes it is unnecessary to remove valuable enamel to achieve beautiful, natural results. Her passion is to match her patients' outer smiles with their inner ones.
So whether you are looking for the latest in cosmetic dentistry, or just looking for a dentist who can help your family smile, please contact us. We'll give you something to smile about!